The Conversation: How Seeking and Speaking the Truth About Racism Can Transform Individuals and Organizations by Robert Livingston
Banner image: Shutterstock/AS photostudio
Published
This extract from The Conversation: How Seeking and Speaking the Truth About Racism Can Transform Individuals and Organizations by Robert Livingston (Published February 2, 2021 by Currency, an imprint of Random House, a division of Penguin Random House LLC, © 2021), is part of a series in which OECD experts and thought leaders — from around the world and all parts of society — address the COVID-19 crisis, discussing and developing solutions now and for the future. Aiming to foster the fruitful exchange of expertise and perspectives across fields to help us rise to this critical challenge, opinions expressed do not necessarily represent the views of the OECD.
Join the Forum Network for free using your email or social media accounts to share your own stories, ideas and expertise in the comments.
---
How the business case for diversity and the moral case are intertwined
To get diversity to work, organizations need to create an environ­ment in which people from diverse backgrounds experience a sense of equity and belonging. Research suggests that this is more likely to happen in organizations that do not see the "business case" as their primary reason for caring about diversity. They should care because it's the right thing to do—and caring for the "right" reasons will make people more likely to feel included and committed to the orga­nization. This, in turn, will make it more likely that organizations will reap tangible benefits from diversity. In other words, the business case for diversity and the moral case for diversity are intertwined—the former requires the latter in order to work. A strictly diversity-for-profit approach runs the risk of alienating and offending the very people whom the company wants to attract.
Researchers at London Business School investigated whether this is the case by randomly assigning participants from underrepresented backgrounds (e.g., LGBTQ+, women in STEM) to read one of two versions of a corporate statement in favor of greater diversity. For half of the participants, the company emphasized the business case, with statements such as "We strongly believe in promoting diversity because it simply makes good business sense." The other half of the participants read statements that emphasized the moral case, with statements such as "We strongly believe in promoting diversity be­cause it's simply the right thing to do." Participants then answered a series of questions about how much they would feel that they be­longed at the organization, based on the statement that they had read. Those who read about the business case anticipated that they would feel a weaker sense of belonging and a stronger sense of rejection at the company, compared with those who read about the moral case.
Follow the OECD Account on SoundCloud and check out our COVID-19 Hub for more content like this!
However, not everyone will reso­nate with the "right thing to do" motive. Are there any other (ratio­nal) reasons for organizations to care about diversity? In a classic paper, Robin Ely and David Thomas outline three reasons for valu­ing diversity and how these three different approaches serve as mile­stones for diversity progress. In the first approach, which they label discrimination-and-fairness, diversity is a numbers game that can keep companies from getting sued. The idea is that the lack of diversity in the 1950s and 1960s in the United States reflected a deliberate effort to exclude women and people of color, which constituted discrimina­tion and a lack of fairness. Now that such discrimination is both le­gally and socially problematic, companies must pay attention to the demographic composition of their workforce to avoid fiscal liability and public shaming. The goal of what I refer to as "Diversity 1.0" is to simply get people of color in the door and onto the roster. Failure to do so could result in lawsuits, as well as reputational damage that could hurt the company financially.
With what I am calling Diversity 2.0, or access-and-legitimacy, the assumption is that having people of color in an organization can provide a portal to new markets. A Vietnamese executive, for example, can provide useful information to the company about how to market its products to the Vietnamese community. Moreover, having a visible Vietnamese executive can help the company establish legitimacy with the Vietnamese community, increasing the likelihood that its members will support the business. One potential drawback of this approach is that people of color often end up feeling that their job is to play the role of spokesperson and cultural ambassador, rather than doing the technical work (e.g., electrical engineering) that they were hired to undertake. For example, imagine an American soldier of Iraqi origin who wants to be a helicopter mechanic. Because she speaks Arabic and has phenotypic Arab features, she is asked to serve as a cultural liaison between other American troops and Iraqi villagers. In many ways, her role becomes playing an Iraqi, rather than contributing her expertise as a helicopter mechanic. Or she ends up doing double duty—serving as both diplomat and mechanic—which can be psychologically and professionally burdensome. In short, the access-and-legitimacy approach can make people of color feel pigeonholed—and thwart their professional advancement—even if their presence and cultural knowledge benefit the organization. Interestingly, some organizations and communities also leverage racial diversity to gain legitimacy within the White community. Once I worked with a mayor who did not strike me as personally passionate about diversity, but he nevertheless invested a lot of energy and resources into seeking it. When I inquired about his motive for spending so much time and effort on diversity initiatives, his response was simply "growth." He continued by saying, "We've got to become better at diversity so we can grow our population. These gray-haired White people in our community are not going to be around that much longer, and White millennial and Gen Z families with children don't want to move into a community that doesn't have any racial diversity." In essence, his focus on racial diversity was a strategy for shoring up the town's tax base—and attracting young White people. Corporations have made similar claims—that having a more diverse workforce makes their company more attractive to young White job seekers. They also realize that the need for greater access and legiti­macy will only grow in the years to come as the proportion of people of color in the population grows.
The holy grail—Diversity 3.0, if you will—is the integration-and-learning model, which reflects the idea that diversity is a valuable asset unto itself, and that diverse teams can generate higher levels of creativity and effectiveness—for all the reasons discussed throughout this chapter. But remember, it's not simply an add-diversity-and-stir approach. As demonstrated by multiple lines of research, the com­pany will have to be committed to equity and inclusion for diversity to pay dividends.
Read more on the Forum Network: Palaces for the People: How Social Infrastructure Can Help Fight Inequality, Polarization, and the Decline of Civic Life by Eric Klinenberg, author & professor at NYU
Finally, diversity can be a benefit not just to organizations but to communities more broadly. Scholars across multiple fields have dem­onstrated that there are social benefits of racial diversity, despite the fact that people often assume that diversity reduces social cohesion. When I interviewed Robert Putnam, author of the influential 2000 sociological work Bowling Alone: The Collapse and Revival of Ameri­can Community, he expressed to me his disappointment that his work is often cited out of context. Although diversity can undermine the sense of community in the short term, he emphasized that, in the long run, diversity improves the sense of community—and his work clearly demonstrates this. Other research confirms the idea that di­versity benefits communities in the long run.
A 2019 study published in the Proceedings of the National Academy of Sciences provides cross-national, longitudinal evidence—looking at a twenty-year time span across one hundred countries—that although diversity initially reduces trust and quality of life, over time diversity becomes a benefit rather than a detriment.  Another study found that people living in more racially diverse neighborhoods were more prosocial and willing to help others than were those living in less di­verse neighborhoods. This effect was explained by the fact that peo­ple living in diverse neighborhoods were more likely to identify with all of humanity. What's also striking is that the study contains ex­perimental evidence demonstrating that people who were asked to merely imagine living in a racially diverse neighborhood were also more willing to help other people in need, and that this causal link was explained by the fact that imagining life in a more diverse neigh­borhood led them to have a broader human identity.
Apropos of a broader human identity, it's important to realize that racism can have a negative effect on all of humanity. In addition to the business case, strong reasons for ending racism can be made on the basis of both self-interest and collective interest. Systems of racial oppression don't just harm Black people; they harm other people of color, and many White people as well.
 Find out more about: The Conversation: How Seeking and Speaking the Truth About Racism Can Transform Individuals and Organizations by Robert Livingston (Published February 2, 2021 by Currency, an imprint of Random House, a division of Penguin Random House LLC, © 2021)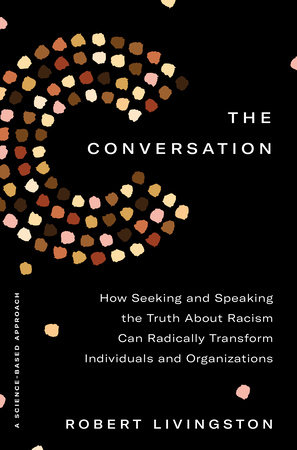 Related Topics
Whether you agree, disagree or have another point of view, join the Forum Network for free using your email or social media accounts and tell us what's happening where you are. Your comments are what make the network the unique space it is, connecting citizens, experts and policy makers in open and respectful debate.